An overview of methods employed to understand user needs and identify design opportunities
Client confidentiality is an issue I take very seriously. This means I have deliberately excluded many details from the following case studies, but the salient points should still shine through.
Approach: Review relevant articles, identify key findings, and synthesize information through the lens of the client's ask to arrive at actionable implications.
A Fortune 500 pharmaceutical company requested a thorough review of eleven disease states and their accompanying implications on a new label design. The client's main concern was the user's ability to correctly identify their medication and differentiate between two or more medications that might be present in the same household.
A Deep Dive into Secondary Research
The disease states were studied to gain a baseline understanding of primary symptoms and co-morbidities.The symptoms were then analyzed in terms of key sensory impairments (e.g., visual, cognitive, tactile), and the resulting design implications (e.g., font size and type, color cues, tactile elements, label finish). 196 sources were reviewed in all.
Synthesizing the Findings
Our team created matrices to understand which disease states had the most severe implications and how they compared with each other. These learnings were shared with the design team and leveraged in preliminary concepts that illustrated different strategies for ensuring successful differentiation and identification of the medications.
Approach: Establish a study protocol and interview guide. Develop screening criteria for recruiting participants. Conduct interviews, probing on users' opinions and rationales.
As a key part of the product development process for a global medical device manufacturer, the team conducted a study to understand users' experiences with competative products as well as their reactions to early prototypes.
Recruiting In a Difficult Patient Population
The users of this product are patients who are particularly difficult to recruit due to the severity of their illnesses. In addition to the standard process of working with a third party recruiter, we did extensive outreach to clinicians and support groups to expand the team's reach.
Preparing Risk Documentation
I drafted a detailed study protocol, risk documentation, and other preparatory paperwork, documenting all test articles that participants would encounter.
In the Observation Room
We asked about users' current experiences, probing on their habits and work-arounds to thoroughly understand pain points. Participants were then asked to handle and examine several prototypes and evaluate specific features relative to their current experience. We probed beyond the "what" to get at the "why." The study findings were shared with the client and the larger team so that the insights gleaned from the interviews could be leveraged in future iterations of the design.
Approach: Observe users in their everyday context of use. Conduct informal interviews without disrupting normal workflow. Document the users and environment thoroughly and respectfully.
A leading global medical device manufacturer suspected that there may be opportunities to improve a product that had been on the market for many years. They asked our team to go into the field and observe the product in use at three hospitals.
In the Field
After obtaining the necessary credentials, the team visited 3 hospitals in 2 countries. We shadowed a key clinician and spoke with nurses, physicians assistants, doctors, and department managers throughout the day as availability allowed, speaking to 19 clinicians in total and observing 10 ongoing cases. We toured Intensive Care Units, as well as secondary support areas, such as stock rooms and equipment processing areas.
Gathering Insights
Through direct observation, we learned about user work-arounds, clinician debates about best practices, and how clinicians handled data. These on-site observations were essential to our development of deep insights about unmet needs and opportunity areas.
Approach: Determine macro and micro steps in an optimal workflow. Pair tasks with relevant users. Identify potential need gaps in the current market.
A leading global medical device manufacturer suspected that there may be opportunities to improve a product that had been on the market for many years. They asked our team to go into the field and observe the product in use at three hospitals.
A Deep Dive into Secondary Research
Before venturing into the field, the team did a deep dive into the landscape of the product, building a preliminary task analysis, user profiles, and an understanding of the relevant disease states. I developed the task analysis through secondary research and extensive consideration of the user groups, use environment, existing and competitive equipment, and general hospital policies.
Where are the Gaps?
Together, we combed through the steps in the task analysis and the user profiles, identifying need gaps and opportunity areas within the product's use cases.
Aligning with the Client
We presented the task analysis and the opportunities we had identified to the client and a subject matter expert in a working meeting. The session helped confirm need gaps and identify other key questions to be addressed when visiting the sites. Armed with this up-front work, our team was in a good position to ask pointed questions in the field that probed at the root of unmet needs.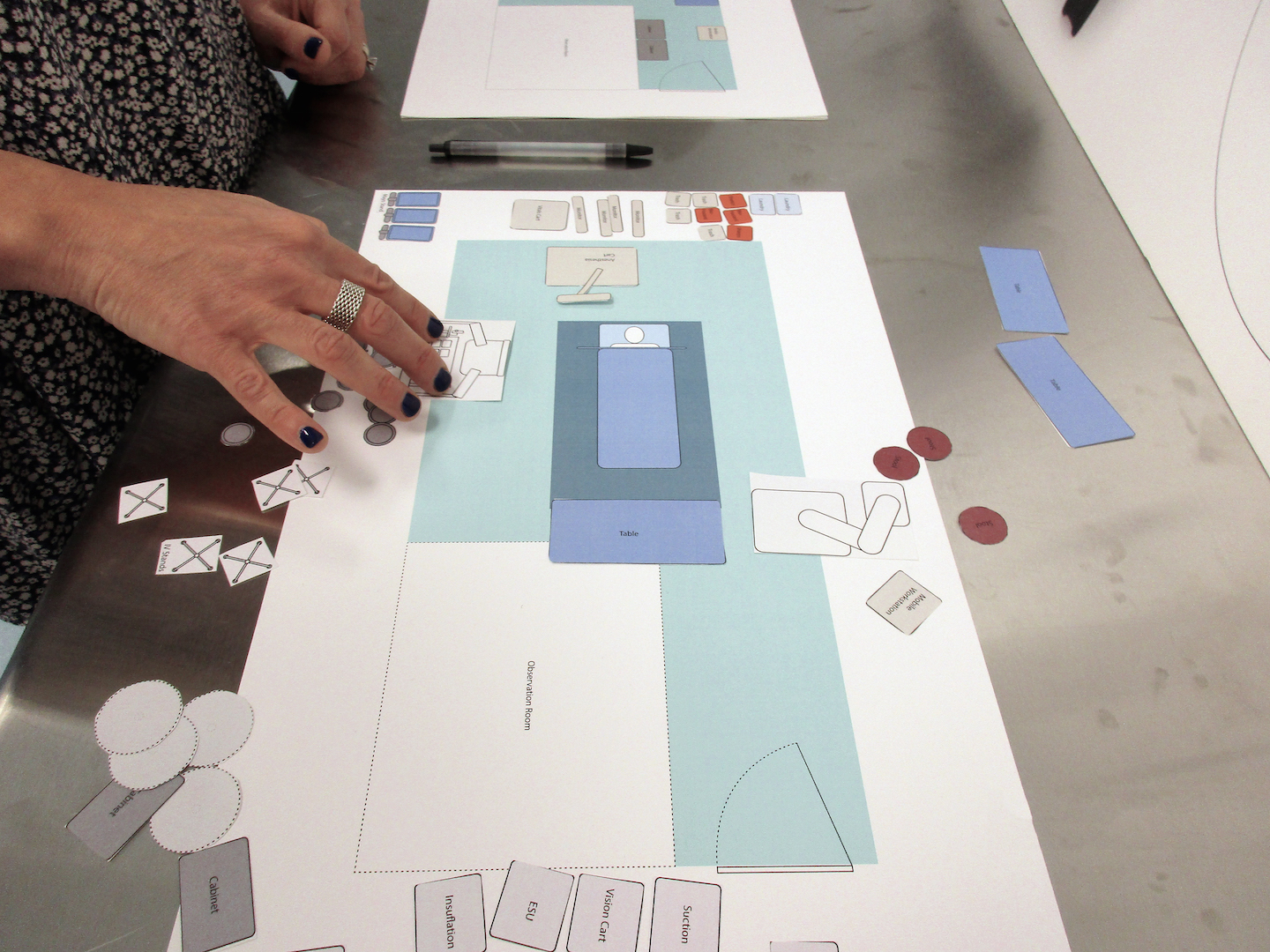 Approach: Create tools that allow participants to engage in a design exploration activity. Articulate clear goals that can be accomplished alone or in teams.
A key part of prototype studies that yield rich insights is conducting these investigations in a believable environment. This allows the participant to suspend disbelief and engage fully in the task at hand. A project for a start-up involved extensive testing of capital equipment that would be used in an operating room. Our team created a simulated OR in our observation room for those studies.
Going to the Source
After extensive observations in active ORs around the country, we met with subject matter experts, clinicians who regularly worked in ORs, so that they could walk us through a realistic equipment layout.
Rapid Prototyping
I created a paper floor plan of our observation room (where the exercise took place) that resembled a board game. The "pieces" represented equipment commonly found in ORs.
The Co-Design Activity
The clinicians were asked to position the pieces on the floor plan to approximate the way they would set up the observation room as an operating room. While placing these pieces, they talked through their rationale, detailing which paths needed to remain clear and how the boundaries of the sterile field were maintained. The learnings from this activity allowed us to set up the simulated environment with confidence that what we were creating would be believable to users.
Approach: Obtain or fabricate a prototype to be assessed by a group of usability experts. Clearly articulate and probe on key attributes. Evaluate the success of various attributes against best practices.
A client wished to determine whether their products could be differentiated from each other in the event that multiple medications were available to one patient.
Rapid Prototyping
I developed quick prototypes to allow evaluators to view existing and proposed product packaging in a realistic configuration.
The Experts in the Room
Evaluators from various teams including industrial design, human factors, and packaging design were gathered together to determine how successfully the labels differentiated different medications.
The Session
Before beginning, I gave the evaluators a detailed review of the context for these medications, including scenarios where multiple medications could be present. They also evaluated the prototypes in low light, knowing that this is a context users would be likely to encounter.
Design Recommendations
The session was a quick and cost-effective way to get a fresh perspective on the proposed packaging. It allowed the design team to move forward confidently with the next iteration.